At LMTSM we dream, design, architect and build. We are on a journey to develop ideas, train minds, challenge thoughts and stretch possibilities. With an assortment of MBA courses, we are inspired with our goal to develop corporate and community leaders who will define and build a New India. Come, let's build a New India together. MBA Admissions for 2019 are now open.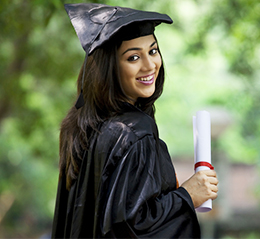 MBA
The MBA Programme at LMTSM revolves around the principles of ethical decision making, inclusive human resources management, sustainable strategy and entrepreneurial development. The teaching philosophy underlying above principles is that future business managers and leaders will be working in a global environment and thus need to be nurtured with personalised attention. The MBA program thus focuses on developing an entrepreneurial mindset, analytical thinking, global orientation and consultative approach to solving the most challenging and complex problems faced by corporations and policy makers.
The program is aimed at developing ethically responsible professionals; leaders who can communicate effectively to frame problems and provide solutions through social and commercial entrepreneurial activities. A mix of diverse teaching methods such as case studies, focused workshops, lectures and discussions, simulation games, and collaborative learning is adopted to provide a holistic learning experience.
Marketing and Business Consulting
Information Systems
Human Resource Management
Entrepreneurship and Family Business
Education Management and Leadership
Energy and Sustainability
finance
---
Doctoral Programmes
Our Doctoral programmes offer a stimulating environment to students towards creation and advancement of knowledge, and practice through scholarly research. The programme has been designed to ensure that students acquire advanced knowledge of theory and practice in their area of specialization and related interdisciplinary areas. It further attempts to equip the doctoral students with relevant tools and techniques of research so that they can identify and study intricate issues in various domains. The course curriculum is designed in such a way that helps students gain in-depth expertise as scholars and academicians.
Ph.D. (Residential)
Ph.D. (For Executives)
M.Phil.
Some of our recruiters
Great job can only come from great partnerships. Our structured and well-established placement cell helps students find careers while organisations find well-trained, motivated and driven employees. Our marquee recruiters include foremost Indian and MNC organisations.